The Retiring Room was a room at Jordan College where the Master and his guests (usually Scholars) retired after a meal. Only men were permitted to enter the Retiring Room.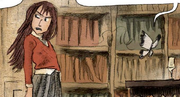 The Retiring Room was a large room with a fireplace. It had an oval table of polished rosewood with matching chairs, and green leather armchairs. The walls were covered in portraits. There was a large oak wardrobe in the corner of the room where the Master hung his robes. There were two doors to access the Retiring Room: one from the Hall and one from the corridor which led between the Library and the Scholars' Common Room. The room was softly lit by naphtha lamps, rather than anbaric light.[1]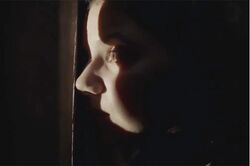 Lyra Silvertongue sneaked into the Retiring Room one evening and witnessed Dr Carne, the Master of Jordan College, poisoning a carafe of 1898 Tokay which was meant for Lord Asriel. Lyra warned Asriel, who proceeded to knock over the decanter and blame it on the Porter Shuter.[1]
Soon after, Lord Asriel went on to give a presentation about Dust in which he managed to raise funding for his next expedition to the North.[2]
Community content is available under
CC-BY-SA
unless otherwise noted.