Jurassic World: Dominion Dominates Fandom Wikis - The Loop
Play Sound
Oxford was a city in Oxfordshire in Brytain. Oxford was home to a famous university made up of twenty-three colleges, of which Jordan College was the richest. The Château-Vert woods surrounded Oxford.[1]
History
[
]
Roman
[
]
Oxford was inhabited since at least the Ancient Roman times. There was evidence of a sacrifice to the God Fluvius in the Oxford Canal, and the Fell Press was said to be built on the ruins of a temple to Mithras.[2]
Cold Ages
[
]
During the Cold Ages, the Oxford Canal froze over. In 1005 there was a battle at Wolvercote between Oxford citizens and a raiding party from the Viking kingdom of Jorvik.[2]
20th and 21st centuries
[
]
Oxford was the home of Lyra Silvertongue. She was taken there by Lord Asriel and raised there until she left with Marisa Coulter. Lyra returned to Oxford and studied at St Sophia's School and later St Sophia's College.[3]
Locations
[
]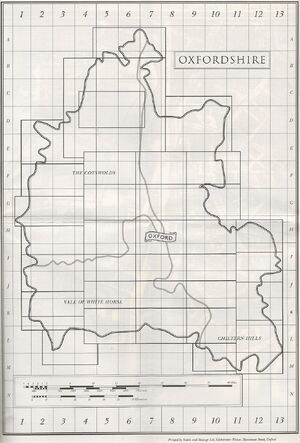 University of Oxford
[
]
The University of Oxford was a famous location in the city. It was made up of 23 colleges.
There was an Aërodock in Oxford, from which zeppelins and balloons took of and landed.[4]
Eagle Ironworks were a company located on Saint Bernards Road and Woodstock Road. They were founded in 1812 by Walter Thrupp.[3]
The Oratory of Saint Barnabas the Chymist was a Venetian style building in Jericho, Oxford. It was designed by Sir Arthur Blomfield.[3]
The Ashmolean was located on the corner of Beaumont Street and St Giles'.[3]
Fell Press was a printing company in Jericho, Oxford. It was located on Great Clarendon Street.[3]
The Botanic Garden was located next to the River Cherwell.[3]
The Oxford railway station was on Hythe Bridge Street. It was located next to the River Isis. The railway line ran between the Isis and the Thames.[3]
Port Meadow was an area of grassland near Jericho. The Horse Fair took place here.
Jericho
[
]
Jericho was a waterfront suburb in Oxford. It had a marketplace and wharves.[1]
Grey Friars' Oratory was an oratory in Oxford. A choir sometimes sang here.[3]
The oratory of St Ann Magdalen was an oratory in Oxford on the corner of Cornmarket Street.[3]
The Claybeds were located next to the brick-burners' houses.[1]
Paradise Square was a square probably somewhere near the Royal Mail Zeppelin Station.[5]
Appearances
[
]
References
[
]