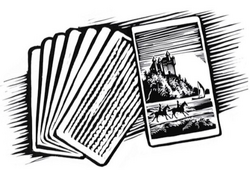 The myriorama was a set of cards in Lyra's world. Narrower than playing cards, when fitted together they created a seemless landscape regardless of the order they were placed in. This allowed them to be combined in a countless number of ways and made them useful for storytelling. They were packaged in a brightly coloured pasteboard box. On the train to Seleukeia, Lyra Silvertongue saw an old man use them to entertain a sick boy. He later gifted them to her.[1]
The myriorama reminded Lyra of what the magician Johannes Agrippa had told her in Prague about ways other than the alethiometer of reading Dust. He had mentioned a pack of simple picture cards.[2] The cards also made Lyra think of the secret commonwealth and she felt some of them could represent the journey both she and Malcolm Polstead were taking, despite the lack of obvious resemblance.
Known cards
[
]
All of the cards in the set given to Lyra showed a road that extended along the landscape when they were fitted together.
A sailing boat on open water beyond the road and part of an island with a castle on a wooded hill. Two soldiers in scarlet on horseback.
A farmhouse and a well among trees at the water's edge. Roses growing over an archway outside the door.
A ruined tower with a lake behind and a giant bird flying above.
A woman, alone and wrapped up against the cold, crossing a bridge with a basket.
Travellers walking beside packhorses.
A young man with a knapsack.
External links
[
]
Appearances
[
]
References
[
]