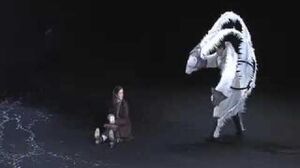 Will Parry: "I wanted to go through after you."
Lyra Silvertongue: "I wanted to stay."
Will Parry: "But then I remembered what my dad said. There's no elsewhere..."
Lyra Silvertongue: "You must be where you are..."
Will Parry: "...and where you are is the place that matters most of all..."
Lyra Silvertongue: "...'cause it's the only place where you can make..."
Will Parry: "...where you can build..."
Lyra Silvertongue: "...where you can share..."
Will Parry: "...what you've been looking for all along..."
Lyra Silvertongue: "The Republic of Heaven."
— Will Parry and Lyra Silvertongue's dialogue at the end of the second part of the play before two clocks strike, Lyra picks up Pan and she and Will walk pass each other, out of sight
His Dark Materials is a play written by Nicholas Wright, adapted from the eponymous trilogy of novels. Because of the length of the trilogy, the play is split into two parts. The play mostly follows the plot of the books. One significant difference is that Dr Mary Malone and her amber spyglass do not appear, with the role of the serpent being taken by Serafina Pekkala. The original play was directed by Nicholas Hytner.
The play premiered in 2003 in the Royal National Theatre's Olivier Theatre in London. The cast included Samuel Barnett as Pantalaimon, Dominic Cooper as Will Parry and Anna Martin as Lyra Silvertongue. In 2004 the play was revived, with a different cast.
The play won Olivier Awards for best set design and best lighting design in 2005.[1]
A recording of the show was made for archival purposes. It is available to watch at the National Theatre Archives in London for free with a booked appointment. The video was made for archival purposes and therefore the quality of film is poor.[2]
La Belle Sauvage will become a play in 2020.[3]
External links
Edit
References
Edit
Community content is available under
CC-BY-SA
unless otherwise noted.