Captain H van Breda was a Dutchman and the captain of the Mary Alice.[1]
Biography
Edit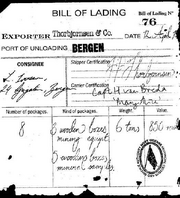 On the 12 April, van Breda signed a bill of lading giving him responsibility for eight packages to be delivered to Bergen. According to the system in Novy Odense, he signed the bill before loading his cargo. However, Larsen Manganese refused to open the warehouse.[1]
Van Breda received a letter from Johann Aagard informing him that unless he removed his cargo by 16 April it would be impounded by the Harbour Authority and put up for auction. However, van Breda was further blocked from loading the cargo by invented charges.[1]
"Let me get this clear. First they hit you with a new kind of charge for storing your cargo, and then they refuse to let you load it, and then they threaten to impound it if you don't?"
On the 15 April, van Breda met Lee Scoresby at the harbour. He explained his situation to the aëronaut, who agreed to help him. Iorek Byrnison also joined the cause, and together they cleared the warehouse of Larsen Manganese's mercenaries so van Breda was free to load his ship and leave the island. In return for his assistance, the captain gave Scoresby his Winchester rifle.[1]
Physical description
Edit
H van Breda was stocky and high-coloured, with red hair. Lee thought he looked around fifty years old.[1]
Appearances
Edit
References
Edit
Community content is available under
CC-BY-SA
unless otherwise noted.