Elaine Parry was the mother of Will Parry and the wife of John Parry.
Biography
Edit
Elaine married John Parry and the couple had a son whom they named William. Not long after the birth of Will, John departed on the Nuniatak dig expedition, leaving Elaine to care for their son alone. On the 24 June 1985, Elaine was sent the last letter she would ever receive from her husband.[1] Three and a half months after his departure, John Parry was declared missing. Before leaving, John had arranged for quartley payments from a family trust into Elaine's account. He told the solicitor Alan Perkins to keep making payments until he was told to stop, so they continued after John's disappearance.[2]
When Will was six, he and Elaine dressed well to visit his paternal grandparents in a large house. Their coldness and obvious contempt made Elaine cry.[3] Elaine suffered from mental health problems, and her son realised he had to care for her when he was seven. In the moments where Elaine had more clarity, her son was careful to learn domestic skills from her so they could continue to live together undisturbed in a house in Winchester; he kept her mental health problems secret out of fear of being institutionalised. She told him he would take up his father's 'mantle' when he used to plague her with questions about him.[4] Will also learnt to fight when children at school discovered Elaine's state.[5]
When he was twelve, following repeated interrogation of his mother from Inspector Walters and another man about the expedition, including occasions where they searched the house for the letters from John, Will took Elaine to live with his old piano teacher.[4] It was only when Will had started investigating his father that he realised that the danger had not all been in his mother's head, after all.[1]
Possessions
Edit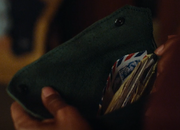 Green writing case: Elaine possessed a green writing case containing the letters which her husband sent to her. The information in these letters was sought by many. Elaine kept the letters in the compartment at the side of a sewing machine.
Physical description
Edit
Elaine had broad cheekbones, wide eyes and straight, black eyebrows. She was notably dishevelled when Will took her to Mrs Cooper's, with her hair untidy, makeup half-done, clothes musty and a bruise on her cheek.[4]
Behind the scenes
Edit
Appearances
Edit
References
Edit
Community content is available under
CC-BY-SA
unless otherwise noted.