The Bologna alethiometer was one of only six alethiometers made. It was kept at the Bologna University.[1]
The Bologna alethiometer was made by Pavel Khunrath some time before 1612.
In 1986, this alethiometer was being read by an Oakley Street member working at the Bologna University. This reader was murdered by the Magisterium and the alethiometer was captured by a quick-witted Oakley Street agent. It was returned to the care of Thomas Nugent, the director of Oakley Street.
The Bologna alethiometer was later presented to Hannah Relf at an Oakley Street meeting in Oxford. She kept it at her house on Cranham Street so that she could continue her work for the organisation.[1]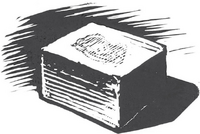 The Bologna alethiometer was kept in a battered wooden box which was likely made of rosewood. The box had a coat of arms painted on top. The alethiometer itself sat on maroon velvet in the box. It was notably deeper than its Bodleian counterpart and had a worn golden case. The thirty-six symbols were painted simply in black on white enamel. An engraving of the sun occupied the centre of the dial.[1]
Community content is available under
CC-BY-SA
unless otherwise noted.