Dr Anthony John Roderick Hassall[2], known simply as Roderick or Rod by his colleagues, was a botanist who was murdered in Lyra's world. His dæmon was a small hawk called Strella. The man was attacked by two men with sticks and beaten to the ground before being dragged into the rushes. Before dying, the man gave Lyra Silvertongue's, Pantalaimon, a wallet he was carrying and told Pan to keep it away from 'them'.[3]
After returning to Oxford from Asia, Hassall arrived at the Oxford railway station where he stored the bag he was carrying in a locker before heading, presumably, towards the Botanic Garden. Before he could make his way there, two men stopped and confronted him. As he reached the tree behind which the men were hiding, they stuck at him and one swung a stick at his knees causing him to drop to the floor.
The other man hit him with a club on his upper body. The man drew out a knife and stabbed the one who had attacked originally in the knee, cutting his hamstrings. However, the other attacker continued to strike at him until Anthony lay still. Anthony was then dragged into the bushes.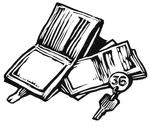 Once his attackers had fled the scene, his dæmon, who had seen Pan, flew up to the branch he was on and asked him to help them. Pan rushed to Anthony, astonished that the two could separate, and Anthony gave him his wallet in which the keys to the locker at the station lay. The hawk began to fade and pressed herself towards Anthony's body before they both perished.[3]
His body later floated down the river and was eventually found at Iffley Lock by the lock-keeper there about one mile from where he had been murdered. The story about his death appeared in the Oxford Times later.[4]
Community content is available under
CC-BY-SA
unless otherwise noted.